Dodo Pizza company
Date of compilation: October 27, 2013
We offer an opportunity for making an early stage investment into the fast food chain with more efficient than competitors operation model and potential for its global scaling.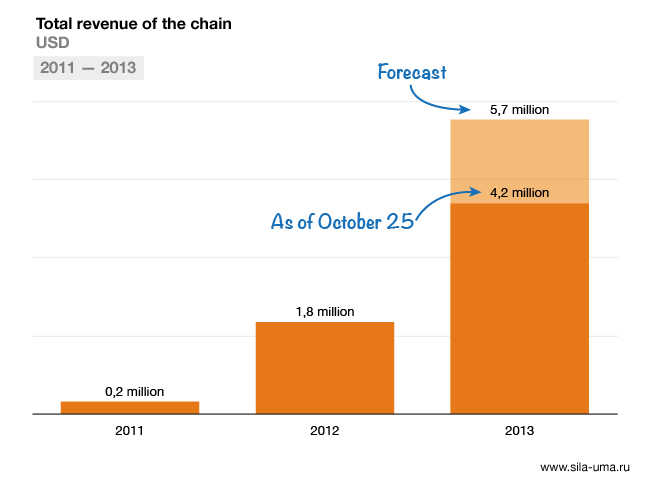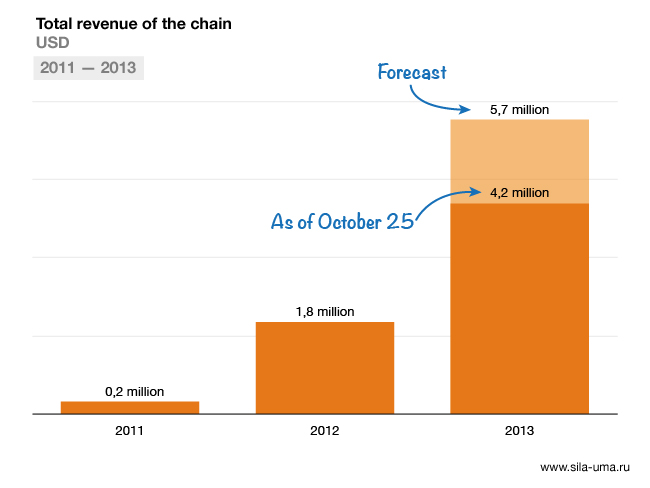 Summary of Company business
Our company combines two areas of focus, IT and fast food.
Starting 2011 the company develops its own dedicated ERP system organized as web-service for management of single pizza restaurant as well as the chain on the whole.
Company develops pizza restaurant chain in the fast food format (own chain plus franchising).
Using the deep integration of IT system and unique business processes, using new capabilities resulting from organization of system as web-service, the Company created pizza restaurant model with higher than competitors efficiency and profitability which are supported by financial results.
Company demonstrates an impressive growth dynamics. From 2011 to 2013 chain net sales had increased by 2400% from 0.2 million dollars per annum to 5,7 million dollars per annum.
As of October 25, 2013 retail chain comprises 12 pizza restaurants in 8 cities of Russia.
Company relies on franchise system as a tool for expansion. Management and control over multiple franchisee restaurants are performed using our own "cloud" information system.
In 2014 the first international Dodo Pizza franchise project will be launched in Romania. All franchises scheduled for 2014 in Russia have been sold.
Company has a transparent structure. The owner of all fixed and intangible assets is the joint stock company within the British law jurisdiction.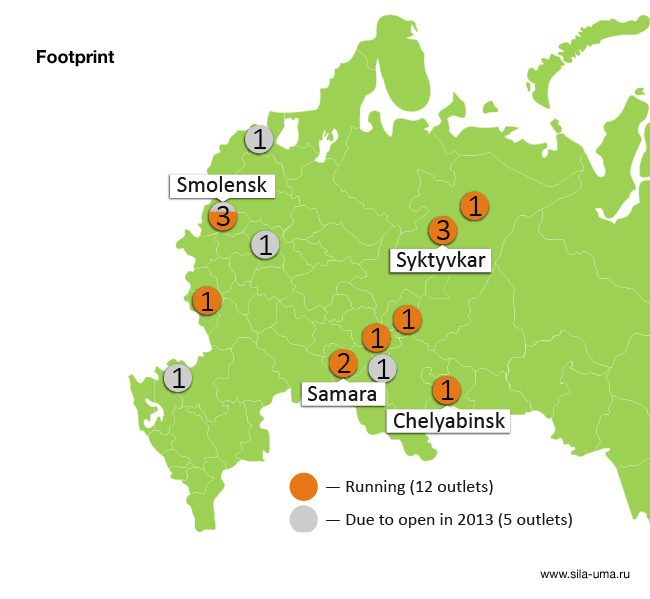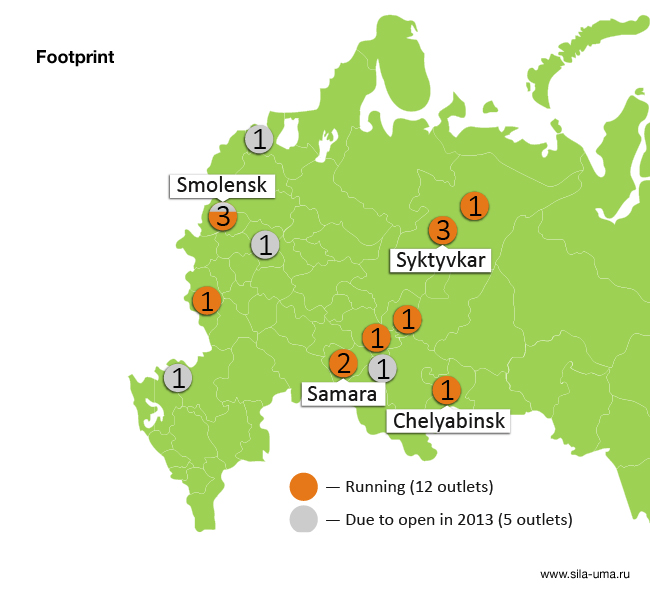 Factors of investment appeal
Company has created more efficient operation model at the food preparation market. Company has higher profitability, transparency and manageability of the operational business than the competitors.
Feasibility of global scaling of business. Factors: innovative model, product popular all over the world.
Franchise model allows to develop quickly and efficiently using private capital and reduce Company risks. Own "cloud" information system provides an opportunity to efficiently manage a large chain as well as control and keep franchisees within the system. Net profit margin of the franchise system in fast food is 80–90%.
Russian food preparation market is bound to experience an explosive growth. At the moment the market has low competition and it is not consolidated. Company works on the Affordable pizza restaurant project to open pizza restaurants in the cities with the population as low as 30 000 people.
Strong management team. Company's fame at the market attracts talented managers and experts as well as franchisee partners. Company was founded by entrepreneur Fedor Ovchinnikov who became widely known because of the Russian business bestseller by Maxim Kotin.
Strong authentic corporate culture.
Standout unconventional marketing.
Well-weighed development strategy up to 2020. Company goal is to open 2 500 pizza restaurants in Russia and other countries and reach sales volume of 1 billion dollars per annum.
Investment proposal
Company looks for a strategic investor. Investments are required for establishment of the for further quick scaling of business.
Two exit options for the investor:
1. Sale of share to the institutional investor in 2017–2018 when the company will substantially increase EBITDA and number of outlets;
2. Company IPO in 2020 before the start of aggressive international expansion.
Detailed information on Dodo Pizza can be found here.
Contact us: Fedor Ovchinnikov, fedor@sila-uma.ru